What is rake in poker?
Within online gaming poker is the only game, which is not played against the house.
Online poker sites spend a lot of money on their stuff, software and security to be able to host fair games. This is where the rake comes in.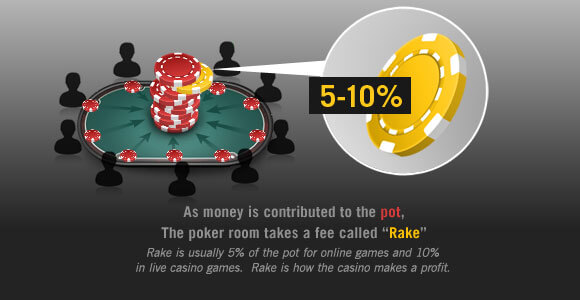 Rake is a preset fee taken by an online poker site operating a poker game on every hand played. It ranges between 3% and 6% up to a predetermined maximum amount, the so-called cap.
However, rake is only ken, if the pot exceeds a certain size. If you don't see a flop, then you don't have to pay any rake.
PLACE WIDGET HERE!!!
Find out here how rake in online poker is calculated
What is a rake cap?
The rake can't increase indefinitely and there must be limits. Otherwise players would pay to high fees and therefore wouldn't be able to beat the game.
That's why there is a maximum amount of money, which can be deducted from a pot, the so-called cap.
Example: You go all-in for $100 at NL100 on Partypoker and get called. The Rake is 5%. 5% of a $200 pot is $10, However, the cap at Partypoker is 3bb = $3, which means you have to pay only $3 in rake instead of $10.
In addition to that, the cap also depends on the number of players. In general, the rake cap is higher, the more people sit on a table. This obviously makes a lot of sense as pots often get bigger on full ring than on 5-handed tables.
On average, the rake cap at NL25 would look as follows:
2 players on the table, Cap = $0.50
3-4 players on the table, Cap = $1
More than 5 players on the table, Cap = $2
Rake is the only way for online poker sites to generate profit
Rake is the only way for an online poker sites can generate revenue as they don't take part in the game.
If you want to become a winning poker player, you not only have to beat your opponents, you also have to beat the rake.
The easiest way to do that, is to sign up through a poker affiliate to get the largest-possible percentage of your paid rake back.
This is why having a good rakeback deal is essential, if you want to make a living out of online poker!
What is rakeback?
 Now that you understand what rake is we can continue with explaining the great concept of rakeback.
As explained in the last paragraph, each time you play online poker for real money you have to pay rake.
If you play consitently or even every day the rake will add up to a significant amount of money over time. The more you play, the more rakeback you earn.

You might think that the amount of money you earn from rakeback can't be so significant. Well, there are thousands of online poker players, who make a living only from rakeback! The top online poker rakers make more than $100,000 in rakeback alone per year!
But that doesn't mean that you have to be a regular or high stakes player to benefit from a rakeback deal.
Even micro limit players with a bankroll of $100 can earn up to $1,000 in rakeback per year! All you have to do is to play consistently and at several tables at the same time (multitabling).
That's why it is so important to get a big portion of this money back through a good rakeback deal.
How can I earn rakeback?
To be able to earn rakeback all you have to do is to sign up through a reliable poker affiliate such as VIP-Grinders.com.
Rakeback is a well-established and very safe concept in the world of online poker. As soon as you have signed up through us on an online poker site, you will get a preset percentage of your paid rake back.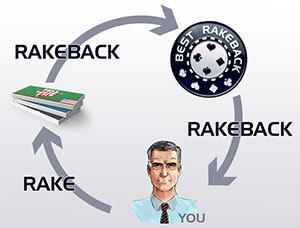 Having a good rakeback deal is very important for every kind of poker player. No matter, if you are a recreational player, grinder or professional, you should always try to maximize your profits.
Rakeback is free money, so why not take it? In the end, poker is all about making money.
Good rakeback deals can make the difference
Rakeback is the re-distribution of poker funds to loyal players. The average rakeback is around 30%.
30% rakeback means you get 30% of your paid fees back from all real money cash games and tournaments you played in.
The bottom line is: A good rakeback deal can make the difference between being a break-even and a winning player! If you want to make money from online poker in the long-term, then you need rakeback.
How do I maximize my rakeback?
The answer to this question is quite frankly volume. When it comes to cash games Fast-Fold poker or multitabling Heads-Up or 6-max games is the best way to maximize your rakeback. For tournament players turbo or hyper turbo Sit & Gos are the best choice.
Moreover, without a great rakeback deal you shouldn't even play hyper turbo Sit and Gos. You are simply paying too much rake and it will therefore be very difficult to make profit.
Secondly, you have to find the best rakeback deal for your online poker room of choice. It makes a huge difference, if you get 30% or 40% rakeback in the long-term.
There are countless poker affiliates and rakeback offers available. It takes time and knowlegde to find the best ones, but don't worry we have done the job for you.
Rakeback-Deals.com and partner VIP-Grinders.com offer the best rakeback deals on the internet. Our team consisting of online poker pros and experts permanently compares and rates all available offers.
With the help of our sophisticated rating system we are always able to display the best rakeback deals currently available on our website.
Why are good rakeback deals so important?
 Due to the huge amount of training sites, solvers, poker tracking software and poker strategy content edges in online poker are getting smaller.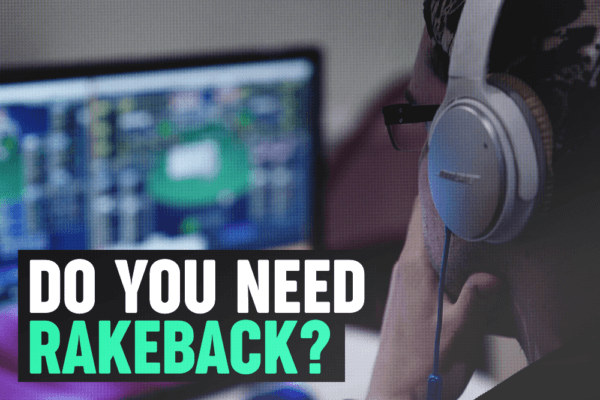 The easiest way to increase your edge is therefore using the best poker bonuses and rakeback deals.
Rakeback can be a lifesaver for break-even players
Online poker is getting tougher every year. Nowadays, fish are hard to find and the tables are full of bumhunters and grinders.
Many players struggle to beat the game and hover around break-even. Especially for the break-even players a good rakeback deal can be a lifesaver, especially when playing online poker for a living.
Don't forget that it is still possible to make a living only from rakeback, if you have the right deal!
Why doesn't every online poker site offer rakeback?
Some online poker sites such as PokerStars only focus on maximizing their profit and forget to reward their players.
They believe that it is not profitable to give something back to their loyal players and don't reward, when you grind hard. Do not play at those sites!
Please Note: Don't play without a rakeback deal or on sites that don't offer rakeback as you are missing out on a huge amount of money!
Instead, pick the sites, which offer the best rakeback deals and good traffic to maximize your profit.
Conclusion
Online poker is getting tougher and players are getting better year after year. To survive in this competitive environment and be able to make long-term profits, it is essential to have the best-possible rakeback deal.
Keep in mind that a good rakeback deal can make the difference and turn a break-even player into a winning player. For high volume players, there is even the opportunity to make a living from rakeback alone!
If you want to be a serious poker player or make a living out of online poker, then don't play at sites without rakeback.
But not only that, compare and choose the poker affiliates with the highest percentage rakeback deals.
Choosing one of our high-value rakeback deals will make your online poker more profitable and lay the basis to become a winning player!